Aprifood Agricultural Products Food Industry
QUALITY POLICY
Aprifood Agricultural Products Food Industry.CO.LTD is one of the leading Dried Apricots producer and exporter companies in Malatya /Turkey that specialize in producing Dried Apricots , Sun Dried Apricots, Diced Dried Apricots. Being one of the top conventional Dried Apricots exporters, we have listed in the first five companies in Malatya City / Turkey . Apart from this, we also have many certifications such as Kosher certified thru Star-k, A Grade BRC certificate for offering excellent products to all the people.
All the products that are manufactured by Aprifood Agricultural Products Food Industry.CO.LTD come in accordance with TS 485 standards following both US AND EU norms The prime goal of our company is to introduce best quality products. For this, we always use great technical equipments and tools. Futhermore, we also provide special attention on the requirements of the clients.
To produce the best products, we have various production processes including pre-washing, cleaning step, second washing, quality control, resting unit, sized unit, packaging, metal detector and then shipment. Besides, we have vast experience to work with the top most companies in across the world.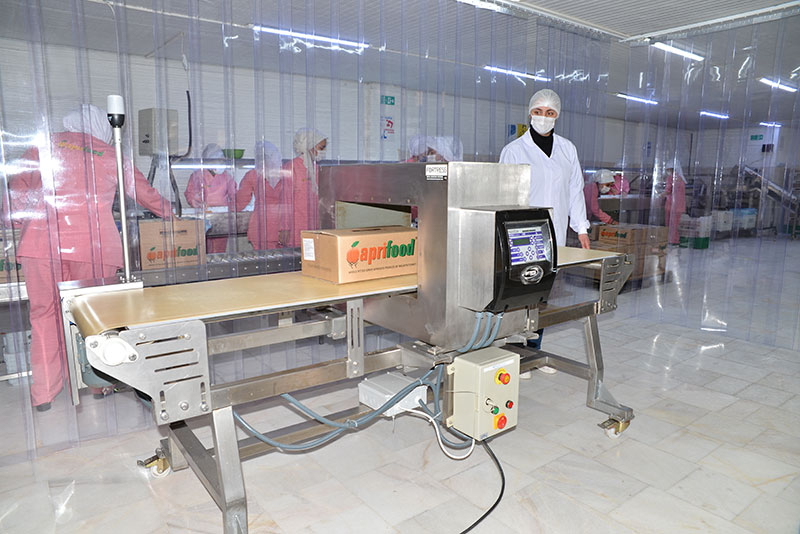 All processes involved in producing these, are conducted under higher standards of maintenance and regulations. The production and manufacturing staff is careful with their job and ensure cleanliness and good hygiene in their work. With years of practice and excellence in manufacturing, they are truly experts in making fine quality products.
As quality is the utmost priority with every exporter so they follow detailed instruction given by the customers and maintain high standard while processing apricots under various stage of development. As a part of quality control procedure they check each apricot should be fleshy with original flavor and smell. It should also have the elastic and flexible pulp in it. Aprifood Agricultural Products Food Industry.CO.LTD also takes the responsibility to ship your item in good condition with proper handling and assure the best quality when arrived at delivery point.
Before packaging We check that the packaging materials are free from bacteria, clean and safe and there is no presence of any foreign body as per industry specifications. The content inside the pack should be protected against any external or internal damages .
METAL DEDECTOR BENEFITS :
Make multi-spectrum standard
Take advantage of the world's only multi-spectrum metal detection technology and neutralize product effect for all types of metal contaminants – both magnetic, and non-magnetic.
Increase inspection opportunities
Our conveyor, pipeline, and free-fall options suit many food applications along the line, including USDA approved options
Compliance and calibration
Comply with FDA 21,CFR Part 11, and GMP criteria requirements and perform stable and consistent detection.
BRC Certificates Benefits :
Achieving the BRC food standard provides consumers with solid evidence that the manufacturer can trust to provide a safe, legal and quality product. Thanks to the BRC Food, Food Safety System standard, food-producing companies and retailers have become more attentive to food safety and product quality.
In the world food trade, the BRC Food Standard is a reliable tool that manufacturers prove to their customers that they can easily take part in their food safety programs and supply chain. The BRC Food Standard has been developed by retailers, food industry experts and related organizations. The standard was published with its first version in 1998 and is currently valid with its 7th version. The framework of the standard establishes how food safety, integrity, legality and quality should be managed in industries that produce, process and package food and food inputs.
In order to comply with the BRC Food standard, 6 must have adapted the basic criteria to its businesses.
1.HACCP Hazard Analysis
2. Critical Control Points Management System
3.Quality Management System
4.Tesis Environmental Standards
5.Product Control
Process Control and Personnel Competence and Hygiene Standards. Companies that meet the above requirements can apply for a certificate by applying to a certification body. Organizations that have this certificate also have many advantages. Thanks to these advantages, food industry suppliers who have established and managed the Food Safety System, BRC Food, have been granted a certain privilege in the sector by being evaluated and certified by a certification body.
It is possible for all organizations operating in the food sector to establish BRC Food, Food Safety System standard in their enterprises and to operate in compliance with this standard. The BRC Food Standard categorized food processing and reviewed and published under the title 6. When applying for certification, companies should review these categories and apply through the appropriate category.